Flush Mounting Spyball Control Unit Model SCFM-A
Flush Mounting Spyball Control Unit Model SCFM-A
Manufactured primarily for the leisure industry, this rugged, flush mounted control panel complements the Colour 10X Zoom Spyball to provide a unique interactive experience for the public that has proved to be very popular with both children and adults.
The Stainless Steel panel is engineered for constant operation over many years, with switches and joystick chosen to withstand the abuse that is to be expected from operation by the public.
Controls are intuitive to use and the proportional joystick allows the camera to smoothly rotate in any direction at variable speed. Speed of camera movement is controlled by the amount of joystick deflection and within a few minutes, most adults and children can follow fish and divers etc without difficulty.
Simple push buttons make the camera zoom into the subject to see amazing detail and a fast / slow zoom button gives further enhancement to this function.
Focus can be set to automatic or manual as preferred. 
For safety, power within the control panel is restricted to less than 24 volts DC. A separate Power and Distribution box linked by a 3 Metre cable is supplied for mounting in an area excluded from public access.
A tough Polyurethane underwater cable, which is made up to any length required, links the Power and Distribution box to the Spyball.
Spyball installation takes only a few minutes, as this is simply a matter of fixing the underwater cable connector and the deployment tube to the Spyball before securing the tube to a convenient point, usually just above the water.
A socket is built n to allow connection to an external coin-box that can be used to provide a revenue stream if required.  
SPYBALL SCFM-A SPECIFICATION
| | |
| --- | --- |
| Dimensions - Control Panel | 297mm wide, 210mm deep and 2mm thick. |
| Weight - Control Panel | 1.5Kg (3.3lb) |
| Controls | Proportional Joystick, zoom, focus |
| Dimensions - Power Unit | 200mm wide, 250mm high and 65mm thick |
| Weight - Power Unit | 1.6Kg (3.5lb) |
| Power Supply | 95 to 240 volts AC at 1 Amp |
| Option | 12 or 24 volt DC version on request |
---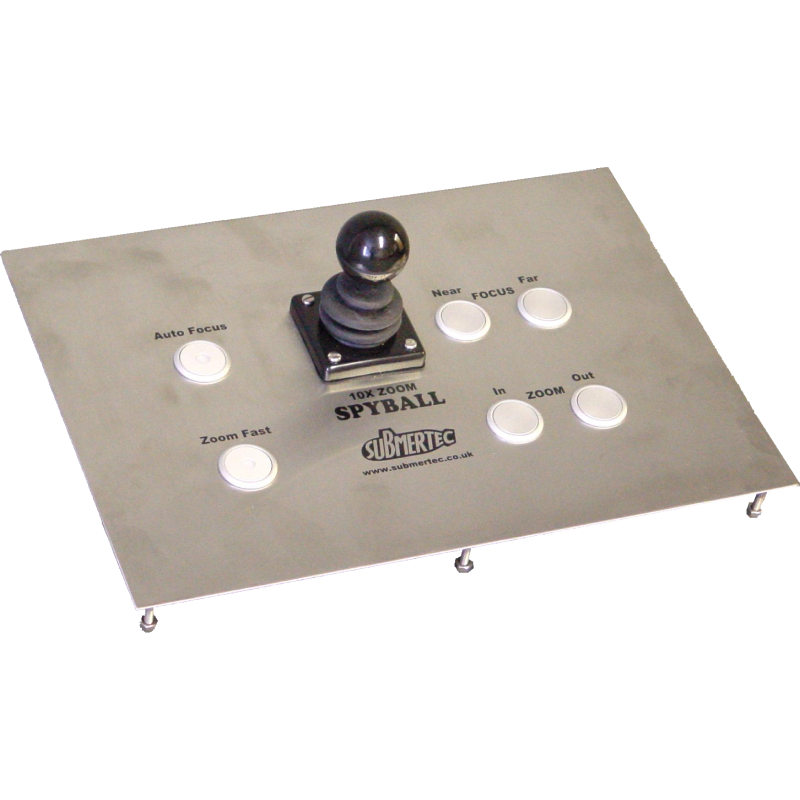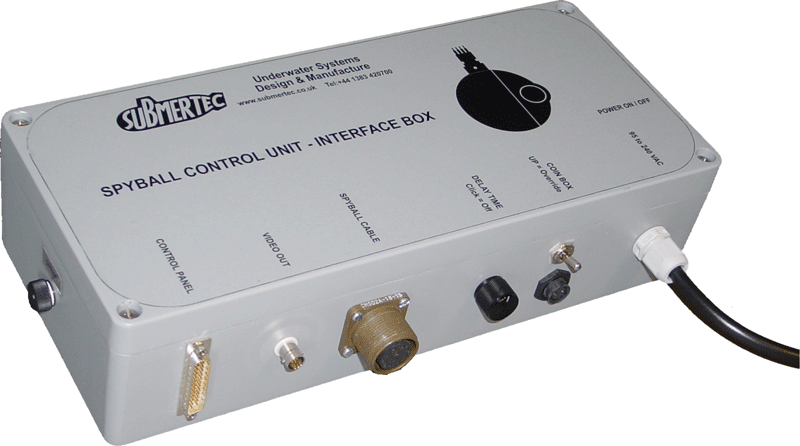 Download PDF