Spyball Model SCDT Desktop Control Unit
Spyball Model SCDT Desktop Control Unit
Desktop Spyball controllers can be supplied in a number of configurations to suit the various Spyball models.
These units are manufactured from extruded Aluminium section with anodised front panel and moulded plastic end plates.
All versions are fitted with a very robust "Hall effect" proportional joystick which allows the operator to smoothly rotate the camera at variable speed to look in any direction.
The basic version, model SCDT-A, does not require any further controls and is used for control of the Monochrome Spyball Model SB-MO or the Colour Spyball model SB-CO.
Model SCDT-Z has additional push button controls for operation of the zoom Spyball model SB-CZ functions as follows: automatic focus on / off, focus near, focus far, zoom in, zoom out and zoom fast / zoom slow.
Model SCDT-I has a slightly different arrangement for control of Inspection Spyball model SB-CI as follows: automatic focus on / off, focus near, focus far, zoom in, zoom out, lights on / off and lasers on / off.
A BNC connector on the rear of the control unit is used to connect the video output signal to a video monitor for display of the Spyball picture.
Connection of the underwater cable from the Spyball is to an Amphenol connector on the rear panel. This connector is fitted to most Control Unit versions to ensure sufficient compatibility with any Spyball type to provide a minimum of picture and joystick control although some features may be unavailable when used with the wrong version.
For safety, the control unit operates from 24 volts DC and a separate universal AC-DC converter is supplied for use with any AC supply from 95 to 250 Volts.  
SPYBALL MODEL SCDT SPECIFICATION
| | |
| --- | --- |
| Dimensions - Control Panel | 246mm wide, 164mm deep and 61mm high. |
| Weight - Control Panel | 1.5Kg (3.3lb) |
| Control Model SCDT-A | Proportional Joystick |
| Control Model SCDT-Z | Joystick, focus auto, near, far, zoom speed, in, out |
| Control Model SCDT-I | Joystick, focus auto, near, far, zoom in, out, lights, lasers |
| Power Supply | 24 volts DC at 400 mA (AC adaptor supplied) |
| Video Output | Composite video 1.2v pp into 75 Ohms |
| Spyball Cable Connector | 10 pin Amphenol |
| Spyball Cable Connector Option | 8 Pin Impulse wet mateable type BH-8-FS |
---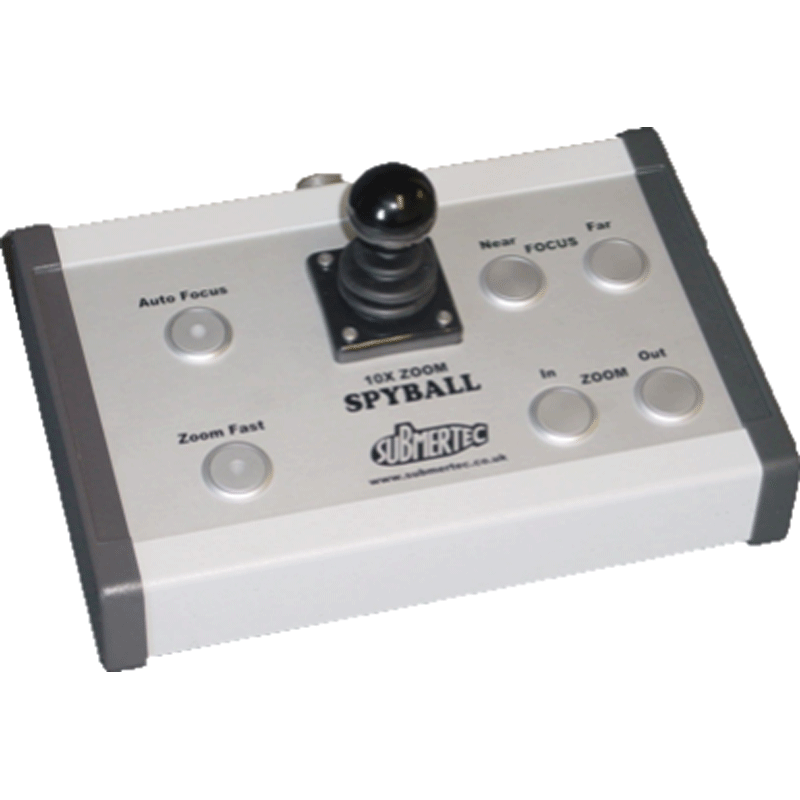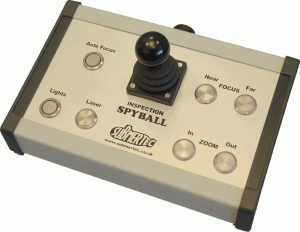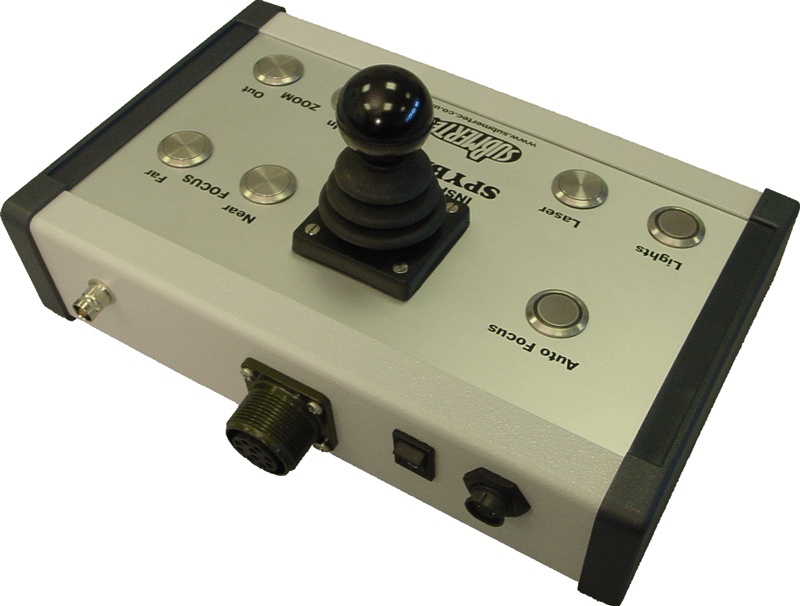 Download PDF