Spyball SCR-40 & SCR-100 Cable Reels
Spyball SCR-40 & SCR-100 Cable Reels
Submertec cable reels have been designed for use with Spyball underwater video systems although they can be supplied for use with other cables.
The built in 8 way slip ring assembly allows continuous operation of the equipment while reeling cable in or out and a simple mechanical locking lever ensures that the reel can be fixed when required.
All parts are sealed for use in adverse weather conditions and materials have been chosen for operation in a marine environment.
Reels can be supplied with capacity for either 40 metres (model SCR-40) or 100 metres (model SCR-100) of Spyball cable (13.5mm dia) although the design can be adapted to accommodate other lengths on request.
Wet mateable underwater connectors are provided at each side of the slip ring so that cables can be fitted or removed even in wet conditions. Seacon IL8MP and IL8FS connectors are used as standard but other types can be fitted on request.
The hand portable mounting frame illustrated to the right can be replaced by other arrangements such as the "fixed mount" or "plug in" flange mount version shown on the left.
Cable reels can now be supplied with a built in one way brake that prevents the reel running out under weight of cable and Spyball.  
SPYBALL SCR-40 CABLE REEL SPECIFICATION
| | |
| --- | --- |
| Reel Diameter | 400mm dia by 200mm deep |
| Overall Dimsensions including stand | 473mm high 355mm wide by 225mm deep (excl lock & turning handle) |
| Empty Weight | 7.5kg |
| Full Weight | 15.8kg |
SPYBALL SCR-100 CABLE REEL SPECIFICATION
| | |
| --- | --- |
| Reel Diameter | 500 mm dia by 230mm deep |
| Overall Dimsensions including stand | 560mm high by 388mm wide by 255mm deep (excl lock & turning handle) |
| Empty Weight | 10.0 kg |
| Full Weight | 30kg |
---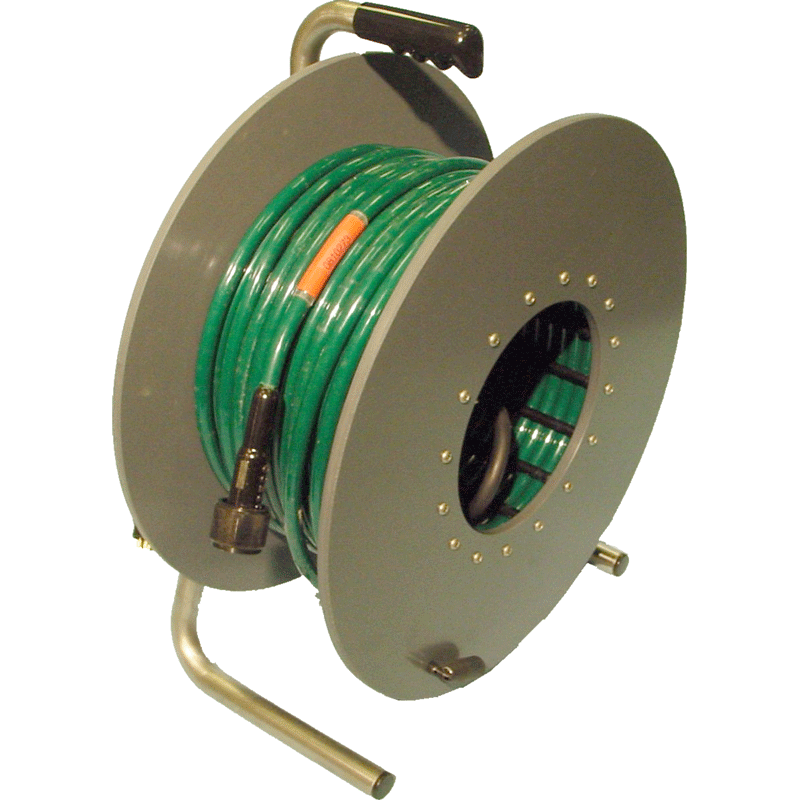 Download PDF